Moore Haven, Florida - " the first real town in the Everglades"
Moore Haven's Riverfront




Moore Haven, incorporated in 1917 is centered between Fort Myers to the west and Palm Beach to the east, and located on the southwestern shore of Lake Okeechobee.

The town of 1500 residents is split by four lane, US 27 and bordered by the meandering Caloosahatchee River which is one of three sections of the Gulf- to -Atlantic Intracoastal Waterway.

Over 18,000 boats, yachts and small ships are assisted through Moore Haven's Lock system each year. Friendly lockmasters gently give directions, often remembering names and destinations on return trips.

Moore Haven was founded when Seattle developer James A. Moore bought the 'Henderson Heirs' tract of some 98,000 acres at the Flat Top Cypress where three mile canal meets Lake Okeechoobee. This is where Moore laid out the town of Moore Haven.

Back in those early days, Moore Haven became the first town to become incorporated in what used to be considered the edge of the Everglades. Towns throughout the lake region remained largely 'roughneck, frontier communities' well into the 1950s.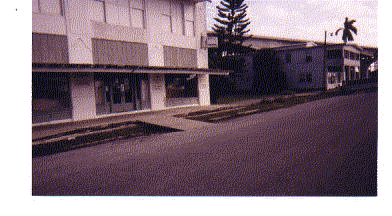 Lundy's Hardware, closes door in 1997
after serving community for nearly
eight decades and three generations.
The building was built in 1917 and part
of the downtown historical district.




As rugged and independent as these little frontier outposts were, Moore Haven's first mayor was a woman. Mrs. Marion Horowitz was elected in 1917. As the first elected female mayor in the country, her election was the subject of controversy nationally.

Those were glory days, and Moore Haven remained a virtual 'boom-town' well into the 1920's when fires, floods and the notorious Hurricane of 1926, threatened to destroy it all. While these disasters crippled Moore Haven, the 'Great Depression brought what was left to a screaming halt. The fishing industry was devastated and packing houses, distriibutors, banks, theatres and businesses began to close down. Many never returned.

Moore Haven struggled over the next several years and finally it seemed that the town would get a well deserved second chance when a massive sugar refinery was constructed in 1960. After 17 years, the Moore Haven Sugar House failed to bankruptcy. Still Moore Haven survived.

Now more than two decades later, Moore Haven's future looks much brighter thanks to the dedication of individuals who refused to give up on the town and its floundering economy.

In 1995, the successful completion of a new state-of the-art correctional facility which created than 200 jobs , as well as bring new housing and support businesses into the area. Wackenhut Corrections, through contracts with Glades County and the State of Florida built and manages the facility and has become an integral part of the community.

In 1997, construction of the new Moore Haven bridge began which bought more jobs .In light of this development,, the construction of new business in on the rise, to a degree not seen in nearly twenty years.

Today, Moore Haven's economy still relies heavily on agriculture but as always, Moore Haven and the Glades County area remains a sportsman's paradise. The temperate regional weather, recreation opportunities and R.V. parks and fish camps around Lake Okeechobee attract thousands of tourists each year. Many return year after year as winter residents.

| | |
| --- | --- |
| | |
| City Park | Moore Haven City Hall |
City and county leaders and residents have worked together to create a redevelopment plan and historical district project. Their goal are to create a community that can provide employment for its residents and a quiet natural place for visitors to enjoy. They have pledged to enhance the city's natural beauty and maintain the quality of its environment.